Kashkuanashku - Our New Beaver Animal Ambassador
February 24, 2022
Our new beaver at Science North has a new name!
Thanks to the overwhelming response from Science North visitors from around the world, our new beaver's name is Kashkuanashku! This name is very special coming from the Innu language and means "it is foggy." As one reader posted, that seems very fitting from the past couple of days of weather we've had in Sudbury.
Thanks to all who have voted and stay tuned for Kashkuanashku's further adventures at Science North!
—————-
February 8, 2022
We are very excited to announce a new member of the Science North team! Our newest animal ambassador - a young beaver!
Staff Scientist Meghan Mitchell, had the opportunity to pick up our new beaver and here is her story:
When I found out that I was going to be one of the team members sent to pick up our newest animal ambassador, it was definitely a highlight in my four and a half year career here at Science North.  We were contacted by Le Zoo Sauvage de St-Félicien, QC, letting us know that their beaver pair had a litter of five kits this past spring and needed to re-home some of them…and they wanted us to take one.
Some of the animals we have here at Science North were injured in the wild, like our older resident beaver, Drifter, and are not candidates to be released back into the while after rehabilitation.  Many of our animal ambassadors are also born and raised in human care and have never lived in the wild, like our skunk and many of our snakes.  Three years ago, we successfully obtained our CAZA accreditation, which is Canada's Accredited Zoos and Aquariums.  This ensures the highest possible care and quality of life for our animal ambassadors but also allows us to procure animals from other accredited facilities like Le Zoo Sauvage, in Québec.  We were all so thrilled that we were going to be able to home a new beaver kit.
Preparations began to build a habitat for the little guy, but I was on a different mission…planning the trip to go and get him.
For those of you who don't know where St-Félicien is, it is over 1,100 km from Sudbury!  When planning a trip to pick up an animal, there are several considerations to make for safety. 1) On a long trip such as this, two drivers are necessary so that we can switch from time to time.  2) How much room do we need in the vehicle? 3) Can we make it home in one day or do we have to overnight anywhere?  Where does one book a hotel with a baby beaver you ask?  I'll get to that part shortly.
Dale Myslik, Science North's Animal Care Technician,was going to be my driving partner and fellow adventurer!  Because neither of us had ever been to Le Zoo Sauvage, we decided to leave a day early so that we could spend a day at the zoo before picking him up to come back home.  Finally in the morning of September 26, 2021 we departed on a four day trek, in a rented minivan to pick up our beaver kit.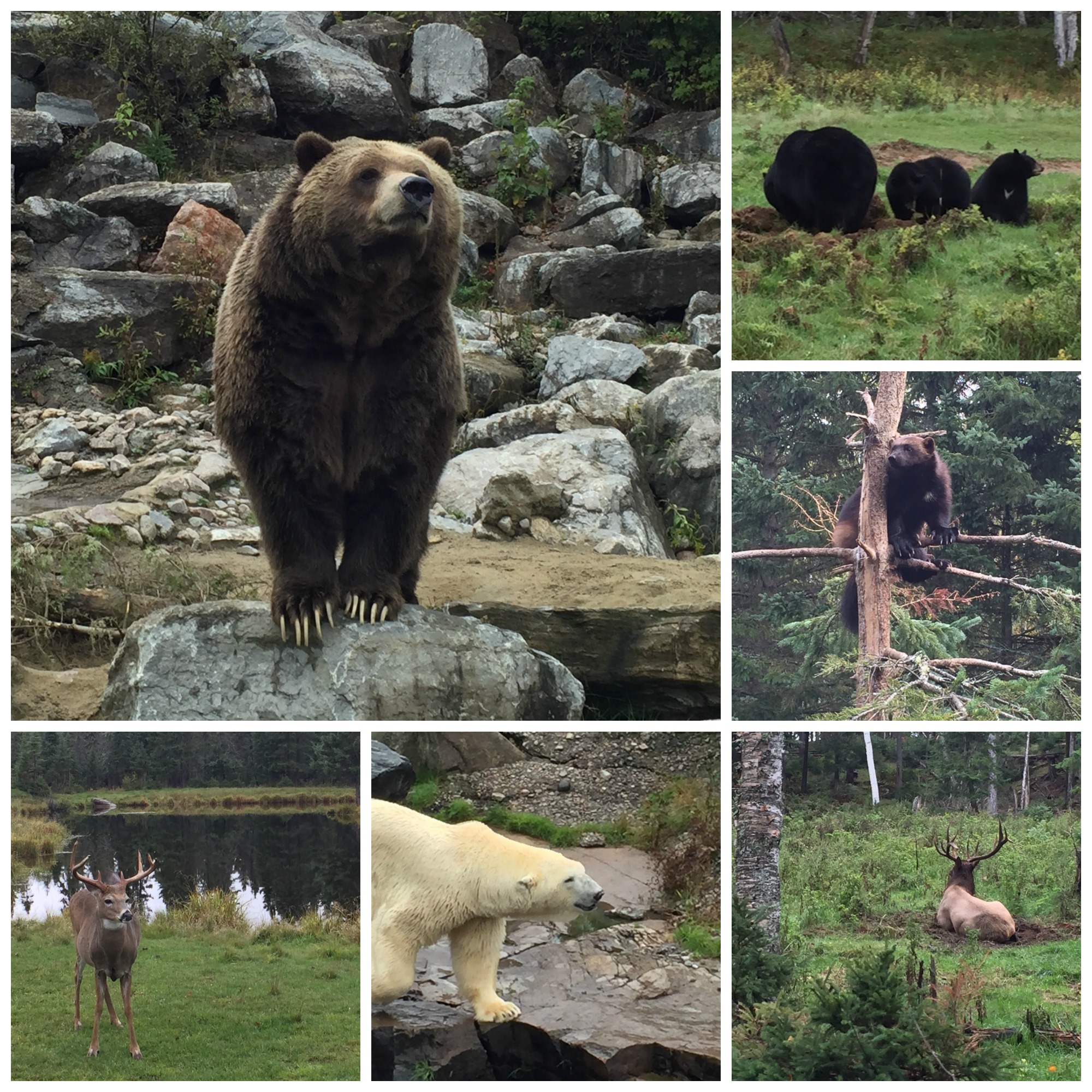 The "zoo day" we took at Le Zoo Sauvage was AMAZING!  It is honestly one of the most beautiful zoos I've been to.  I've included some of the photos I took at the zoo, and I highly recommend everyone to visit this city and zoo if they are ever in the area.
Then finally it came time to meet our new little guy and the veterinary staff at the end of the day.  Dale and I were so happy to finally meet him!  The zoo staff let the mother beaver wean the kits before they separated him from the rest of the family, which was necessary because the beaver kit needed to be tested and treated for a parasite naturally found in beavers called giardia.  The next morning we arrived at 8:30am and loaded our new little ambassador into the van and headed for home.
The trip went well.  We stopped frequently to check on our passenger.  To get him used to hearing human voices, I read The Tales of Beedle the Bard by J.K. Rowling, out-loud to both Dale and the beaver…they both really enjoyed the book (hehe!).   There was even a food and water offering in a McDonald's parking lot, somewhere in Québec, and a stop along the highway to cut some poplar branches for the little guy.
We drove until it got dark, and stopped for the night at the pet-friendly Quality Inn in Arnprior, ON.  I can't say for sure if they'd ever had Canada's national animal sleep at their establishment before, but it was an interesting process setting up a makeshift enclosure for our little kit to get out and move around.
We brought along tarps and water dishes, buckets, plastic bags, food, disinfectants…everything but the kitchen sink (but only because the hotel already had a sink)…so we were well prepared for our little sleepover.  Below is a photo of the sleeping arrangements that night.  I'm not sure if he actually came out, but we made sure he got a little swim and a drink in the morning before we left for the final journey home.
Arriving back at the Science North  was a little akin to a rock star entering a stadium for a show!  Ok, maybe not that intense, but I was getting "are you here yet" texts from anxious Bluecoats waiting for a glimpse of our new little beaver.  And then finally we were home!
Dale and I set up a little enclosure for him in our Quarantine room, and thus began his 30 day quarantine.  A few Bluecoats, including myself, Dale and Amy Henson were responsible for his care for those 30 days, in which time we were also thinking of names.  Dale and I brainstormed a lot on our trip and decided that we'd like to honour the Innu Traditional Territory that he comes from in Québec.  So we translated words and phrases and after some deliberation and spellchecking we had three different names in mind:
Kashkuan (Kash-koo-an), which means "cloud"
Kashkuanashku (Kash-koo-an-ash-koo), which means "it is foggy"
Kashkuanapan (Kash-koo-an-ah-pan), which means "it is a misty, foggy morning"
All three of these names refer to the weather to celebrate Science North's Wild Weather travelling exhibit. We've been calling him "Kash" for short,  but now you can help us decide on a final name for him!
Click on a box to select a name:

Kash is currently set up in a temporary habitat in our back room area at Science North and will be out at scheduled times.
Stay tuned to the Bluecoat Blog to see more updates on Kash!